Our guesthouse is located on the road to Jasna in the village Demanová - Bodice.
You can find in Jasná:
23 cable lifts
more than 36 km perfectly prepared slopes - children, family - blue, as well as professional slopes
transport capacity of 24,535 people per hour
snow guarantee 5 months
the largest children's park MAXiland
ski school and rental
ideal place for tracking and hiking
caves
9 km from us is Chopok - Center of Great opportunities
TOP news - restaurant ROTUNDA OPENED
Linking Chopok North-South is finally ready for all the tourists and skiers. Funitel technologically cutting-edge technology allows you to get to Chopok even in windy weather. Now it has to happen, that because the wind will not be able to ski or admire the beauty of nature. Cable car systems manufacturer DOPPELMAYR Ltd. - Wolfurt Deflections resulting from the Chopok. It consists of 22 booths with a capacity of 24 persons in each boot. Cabs are suspended by two ropes.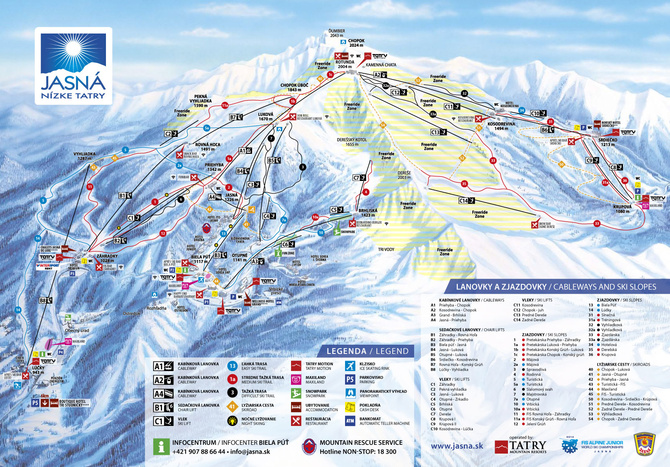 Completed 15 seater chairlift Kosodrevina - Chopok
Lucky funicular and a new blue ski slope
Addition and renovation of snow barriers Chopok - Horse grúň - Luková
Landscaping slopes Race with range to Priehyba
Horizon bypass - Chopok juh
GoPass e-shop - ski pass purchased via the internet for the best price
BENEFITS Funitels:
• eliminate the downtime upper part of the center of wind
• The transport capacity of the center reaches 30,000 persons / hour. Ie. most masterfully in Slovakia
Directly exported into the newest restaurant at Chopok. You will enjoy a unique sightseeing restaurant with exclusive 360 degree panoramic view at an altitude of 2004 meters above sea level on top of Chopok with 100 seats.