SUMMER package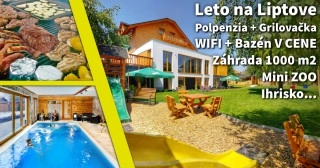 28.06.2022 - 01.09.2022
Stay with halfboard grill
party + pool included
with animals, jungle gym and herb bed
Do not hesitate to book
enjoy your stay today.
and get the best price.
Or contact us with a question on
specific term with the number of adults
and the age of children at:
Package Included:
accommodation

Half board - buffet

Grill party on the terrace (every Wednesday)

Pool with counter current daily 10 - 22 hrs
Experience a holiday full of activities for children and adults alike. Experience a beautiful summer and take a full backpack of experiences with the Pension Maria.
Book online